Gerlinde Wurth
Jung An Tagen
04—17.10.2019

Parallelfiguren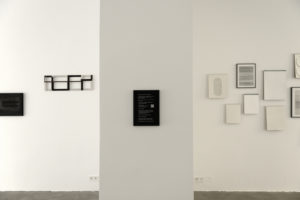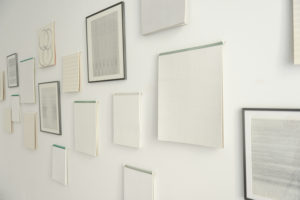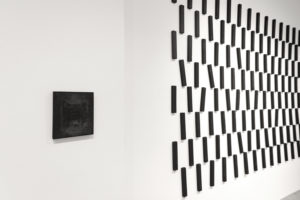 In der Ausstellung »Parallelfiguren« treffen die minimalistischen Zeichnungen und Materialbilder von Gerlinde Wurth auf die elektroakustische Soundperformance »Canon« von Jung An Tagen und lassen neue Synergien zwischen den beiden Werken entstehen.
Zu sehen sind ausgewählte Arbeiten der letzten 40 Jahre aus dem umfangreichen und viel zu wenig beachteten Werk von Gerlinde Wurth. Nach anfänglichen Stilexperimenten fand Wurth 1979 zu der außergewöhnlichen Klarheit und Kompromisslosigkeit, die ihre Arbeiten seither auszeichnet. In ihren extrem reduzierten Zeichnungen ordnet sie unermüdlich winzige Striche, Punkte oder Kästchen in immer wiederkehrenden Abfolgen und Strukturen an. Mit ihren repetitiven Zeichen und Variationen weisen ihre Bilder eine Nähe zur Musik auf, die durch die Klanginstallation von Jung An Tagen verstärkt und perspektiviert werden.
Jung An Tagen ist einer der eigenständigsten, neuen Vertreter der aktuellen elektronischen Musikszene. Sein eigens für die Ausstellung komponierter »Canon« ist eine interaktive Klangperformance, abgespielt auf den Handys der BesucherInnen. Je nachdem, wann und wie viele Anwesende sich daran beteiligen, kommt es zu Überlagerungen und Verdichtungen, aus denen unvorhersehbare Klanggebilde wachsen. So tritt aus diesem generationsübergreifenden Dialog zweier Künstler nicht nur die Musikalität als gemeinsamer Nenner hervor, sondern auch der Zufall als zentrales Gestaltungsmittel.

Ausstellungseröffnung ist am 3.10. um 19:00
Die Performance beginnt um 20:00, Dauer: 20 Minuten
Zur Ausstellung spricht Roland Schöny

Download Ausstellungstext »Parallelfiguren — Doppelidentitäten« von Roland Schöny
In the exhibition »Parallel Figures«, Gerlinde Wurth's minimalist drawings and material images meet the electro-acoustic sound performance »Canon« by Jung An Tagen and create new synergies between the two works.
The exhibition displays selected works from the last 40 years from the extensive and far too underappreciated work of Gerlinde Wurth. After initial style experiments, in 1979 Wurth found the extraordinary clarity and uncompromising character that has distinguished her work ever since. In her extremely reduced drawings, she tirelessly arranges tiny lines, dots or boxes in recurring sequences and structures. With their repetitive symbols and variations, her pictures show a closeness to the music, which is amplified and put into perspective by the sound installation of Jung An Tagen.
Jung An Tagen is one of the most independent, new representatives of the current electronic music scene. His »Canon«, specially composed for the exhibition, is an interactive sound performance played on the mobile phones of the visitors. Depending on when and how many people are present and participating, there are superimpositions and condensations from which unpredictable sound structures grow. Thus, not only musicality emerges as the common denominator of this intergenerational dialogue between two artists, but also coincidence as a central design element.

The exhibition opening is on October 3rd at 7 p.m
The performance starts at 8 p.m. and will last approximately 20 minutes
Roland Schöny will speak at the exhibition

Download exhibition text »Parallelfiguren — Doppelidentitäten« (German) by Roland Schöny