Michael Kienzer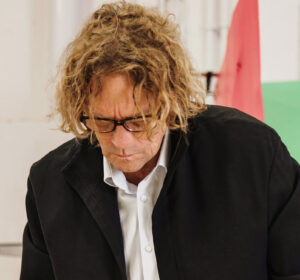 Das Werk des österreichischen Bildhauers Michael Kienzer bewegt sich zwischen skulpturalen Arbeiten und raumspezifischen Installationen. Für seine präzise gesetzten Materialkompositionen instrumentalisiert er Alltagsgegenstände und industrielle Versatzstücke, um Sehgewohnheiten und Wirklichkeitskonzepte zu hinterfragen. Die raumgreifenden Gebilde verstehen sich als Momentaufnahmen, die spielerisch Gesetzmäßigkeiten wie Maßstab oder Schwerkraft herausfordern.
Michael Kienzer (*1962) lebt und arbeitet in Wien.

The work of the Austrian sculptor Michael Kienzer moves between sculptural works and space-specific installations. For his precisely placed material compositions, he instrumentalizes everyday objects and industrial pieces to question visual habits and concepts of reality. The expansive structures are understood as snapshots that playfully challenge physical laws such as those relating to scale or gravity.
Michael Kienzer (*1962) lives and works in Vienna, Austria.
2023

 Parallel Vienna Sculpture Garden, Toscanapark Gmunden

2023

 Parallel Vienna Sculpture Garden, Toscanapark Gmunden

2023

 ALREADY, Artelier Contemporary, Graz, AT

2023

 ALREADY, Artelier Contemporary, Graz, AT

2022

 Melted into the surroundings, Galerie Elisabeth & Klaus Thoman, Vienna, AT

2022

 Melted into the surroundings, Galerie Elisabeth & Klaus Thoman, Vienna, AT

2022

 Galerie Petra Seiser, Schörfling am Attersee, AT

2022

 Galerie Petra Seiser, Schörfling am Attersee, AT

2022

 Michael Kienzer. Between Decisions, rauminhalt_Harald Bichler, Vienna, AT

2022

 Michael Kienzer. Between Decisions, rauminhalt_Harald Bichler, Vienna, AT

2021

 Formfolge Vol. 5, 2021, Aluminium, Stahl, 325 x 224 x 42 cm, Galerie Elisabeth & Klaus Thoman, Vienna, AT

2021

 Formfolge Vol. 5, 2021, Aluminium, Stahl, 325 x 224 x 42 cm, Galerie Elisabeth & Klaus Thoman, Vienna, AT

2020

 Michael Kienzer. MRS BLACK AND MR WHITE THEY HAVE NEVER SEEN A SHADE OF PINK AND GREY, Galerie Lisa Kandlhofer, Vienna, AT

2020

 Michael Kienzer. MRS BLACK AND MR WHITE THEY HAVE NEVER SEEN A SHADE OF PINK AND GREY, Galerie Lisa Kandlhofer, Vienna, AT