Kaja Clara Joo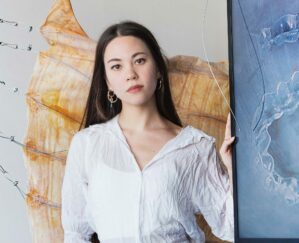 Die Werke der österreichisch-koreanischen Künstlerin Kaja Clara Joo changieren stets an der Schnittstelle zwischen Plastik und Bild. Kulturelle und soziale Phänomene sowie Verhaltensmuster stehen hierbei im Mittelpunkt. Es entstehen organisch wirkende und akribisch choreographierte Skulpturen. Das Medium der Fotografie, welches oftmals als begleitendes Element zum Einsatz kommt, wird dabei als physischer Prozess verstanden. Sei es im Sinne eines Materials, welches bei Lichteinfall schwärzt oder als intervenierender Moment zwischen taktilen und narrativen Spuren.
Über die rein stoffliche Berührung hinweg wird abgetastet, erforscht und konserviert. Dem Betrachter soll sich ein Gespann eröffnen, welches über im Raum inszenierte Komponenten Bruchstücke einer größeren Erzählung offenbaren.
Kaja Clara Joo (*1991 AUT/KOR) lebt und arbeitet in Wien.
The works of the Austrian-Korean artist Kaja Clara Joo always oscillate at the interface between sculpture and image. Her focus lies on cultural or social phenomena as well as behavioural patterns. Organic-looking and meticulously choreographed sculptures are created. The medium of photography is often used as an additional process in the creation of her sculptures. Be it in the sense of a material that blackens when exposed to light or as an intervening moment between tactile and narrative traces.
Kaja Clara Joo (*1991 AUT/KOR) lives and works in Vienna, Austria.
2023

 FOTO WIEN Vienna / To be honest (Tbh)

2023

 FOTO WIEN Vienna / To be honest (Tbh)

2023

 Smolka Contemporary Vienna / Alienated

2023

 Smolka Contemporary Vienna / Alienated

2023

 University of Applied Arts Vienna / Better Together?

2023

 University of Applied Arts Vienna / Better Together?

2022

 PARALLEL VIENNA ´22 / Artist Statement

2022

 PARALLEL VIENNA ´22 / Artist Statement

2022

 SWAB Art Fair, Duo with Kai Philip Trausenegger, Barcelona

2022

 SWAB Art Fair, Duo with Kai Philip Trausenegger, Barcelona

2022

 Bildraum 07, Wien / GONZO

2022

 Bildraum 07, Wien / GONZO

2022

 periscope, Salzburg / HABITAT

2022

 periscope, Salzburg / HABITAT

2022

 FOTO WIEN / Stones in a glasshouse, Vienna

2022

 FOTO WIEN / Stones in a glasshouse, Vienna

2022

 Artquarter Budapest, Hungary

2022

 Artquarter Budapest, Hungary