Lukáš Machalický
Robert Šalanda
29.05.—20.06.2021

Knock Knock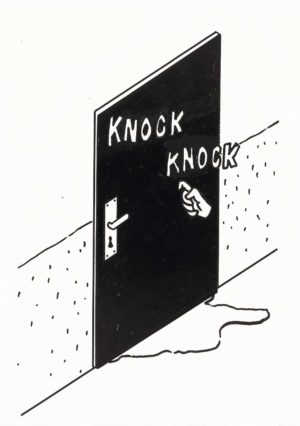 Das Gebäude hat drei Stockwerke: das Untergeschoss (mit Zugang zum Garten), das Erdgeschoss und das Obergeschoss mit einer Gesamtfläche einschließlich der Garage von 300 m². Alle Zimmer haben Parkettboden und andere Teile des Hauses haben ihre ursprünglichen Marmorböden. Die Wände sind weiß gestrichen und wechseln sich mit Blöcken angenehmer, heller Farben ab. Das Gästezimmer im Obergeschoss hat ein Farbschema von frischem und fröhlichem Grün mit gedämpften Grau- und Weißtönen. Im Erdgeschoss befinden sich eine Garderobe (mit Fenster) und der Hauswirtschaftsraum mit Waschmaschine und Trockner... Der Ruheraum und die Küche werden von Holz dominiert, was im Gegensatz zu den Schieferfliesen in Küche und Kamin steht . Das Arbeitszimmer verfügt über einen kleinen Schreibtisch, einen eingelegten Schreibtisch, zwei Uhren und zwei rechteckige Spiegel. Hier befindet sich auch die Schießausrüstung. Ein weiterer Raum dient als Schlafzimmer mit zwei Betten, zwei Tischen und mehreren Stühlen. Die Innenausstattung umfasst zwanzig beleuchtete Papierlandschaften. Der letzte Raum ist zum Entspannen gedacht, wie die Einrichtung vermuten lässt (Sofas, türkische Teppiche, eine Laute usw.).
The building has three storeys: the lower ground floor (with access to the garden), the ground floor and the upper floor, with a total floor area including the garage of 300 m². All of the rooms have parquet flooring, and other parts of the house have their original marble floors. The walls are painted white, alternating with blocks of pleasant, light colours. The guest room on the upper floor has a colour scheme of fresh and cheerful green with muted tones of grey and white. On the ground floor there is a cloakroom (with a window) and the building's utility room, with a washing machine and dryer… The relaxation room and kitchen are dominated by wood, which contrasts with the slate tiles fitted in the kitchen and fireplace. The study has a small desk, an inlaid writing table, two clocks and two rectangular mirrors. Shooting equipment is also stored here.
Another room serves as a bedroom, with two beds, two tables and several chairs. The interior décor includes twenty illuminated paper landscapes. The final room is for relaxing, as its furnishings would suggest (couches, Turkish carpets, a lute, etc.).